FABRO Scientist - Level I
Step up to the Next Level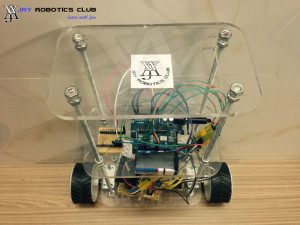 FABRO – Scientist is a robotic program, where we fabricate passionate engineer students to a level of robotic scientist. We have planned to go for more levels in the upcoming days, where we teach more complicated algorithms and artificial intelligence concepts to the students in the aim of making the students a World Robotic Icon.
In FABRO Scientist Level I, you will get your hands dirty in building up robots with new concepts.
Robots:
PID Line Following Robot
Self Balancing Robot without Encoders
Duration: 45 hours
What is the use of learning it?
Learn to develop robots right from scratch
Understand the uses and differences of programming techniques
Explore your knowledge on Control Systems
Check out the performance of robots in the below video:
Required:
A good knowledge in C programming
A laptop for programming the 

microcontroller
FABRO Scientist - Level I
Step up to the Next Level
Each participant will get a complete robotic kit and a course completion certificate